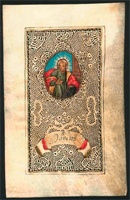 Illustration 1. Devotional, ca. 1700-1750. Parchment, knife-cut, with a gouache painting of Saint Paul. France/Germany.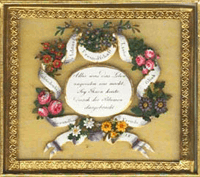 Illustration 2. Biedermeier style of love-offering/friendship card. Made by Johannes Endletzberger, Vienna, ca. 1820.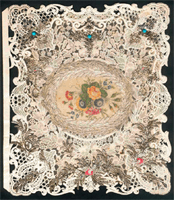 Illustration 3. Elaborate English Valentine, openwork cameo-embossed lace paper. Made by Meek, ca. 1840.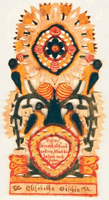 Illustration 4. Fraktur love token/reward. Painted cut-paper. Attributed to Jacob Botz, ca. 1780, Pennsylvania.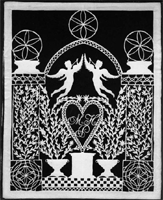 Illustration 5. Elaborate Paper-cut, American, ca. 1825.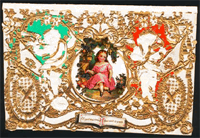 Illustration 6. Valentine by Esther Howland, Worcester, Massachusetts, ca. 1850.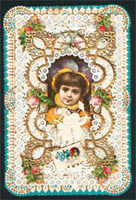 Illustration 7. Victorian-style Collage Valentine, McLoughlin Company, New York, 1880s.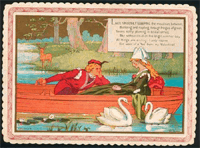 Illustration 8. Valentine by Kate Greenaway, England, circa 1870. Design from the book illustration for
Melcomb Manor
.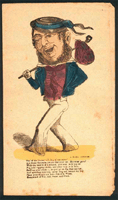 Illustration 9. Comic Valentine, England, ca. 1840.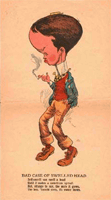 Illustration 10. Comic Valentine, American, ca. 1890s. Designed by Charles Howard for McLoughlin Company, New York.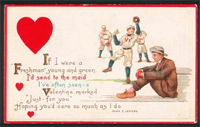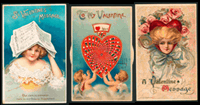 Illustration 11. Postcard Valentines. "Beauty" under a newspaper, signed Ellen Clapsaddle, 1912; Early baseball design. ca. 1910; Beautiful woman, design by Samuel L. Schmucker, Winsch Publishing Co., 1910; Mechanical postcard, Frances Brundage design, 1910.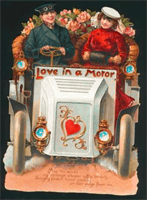 Illustration 12. Open-out Valentine, "Love in a Motor," by Raphael Tuck, printed in Germany, early 1900s. Grill opens to reveal an image of a romantic couple amid a bouquet of tissue-paper flowers.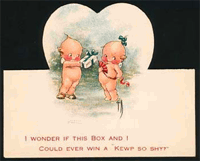 Illustration 13. Kewpie Valentine, Rose O'Neill, illustrator.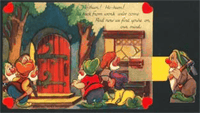 Illustration 14. Snow White, from the series by Walt Disney, 1938. Mechanical.
1. Introduction For more than twenty-five years, Valentines have been a passion for me — and I have constantly sought examples of virtually every kind that exists! Each acquisition seemed to lead to another, and each was a piece of the puzzle that I was assembling. In this article, I hope to convey to the "Valentine audience" the history and beauty of these treasures I collect, as well as the enduring passion which has led me to seek the rare and unusual, as well as the most simple, unassuming tokens. Through my articles, my lectures, and my video, I believe that I am helping to make the public more aware of the fascinating story of the Valentine. By presenting information about the early history, the evolution of the Valentine, and some of the varieties that exist, I hope to further establish them as a sophisticated, intellectual subject, important as social documentary, and worthy of scholarly recognition as a serious research and collecting area. Messages of love span the centuries, and are interwoven with culture to create a very poignant view of history and the people who lived during those times.
Paper collectibles are often known as "ephemera" - a broad word used to include items, which were meant to be "ephemeral", or not long lasting, and often discarded. While Valentines are included in this broad category, I truly believe that most were intended to be cherished and saved — and never meant to have a transitory quality. Collectors and historians recognize the importance of this memorabilia in adding the personal details to history. Learning about people and events by studying such treasures is a key to completing the picture of the people who lived through those events. In reading a love note so carefully and beautifully written in Spencerian script on the interior page of a delicate Valentine, or perhaps simply by holding in your hand a primitive fraktur of the Pennsylvania Germans, one discovers a common denominator, that they were created out of love, cherished, saved, and handed down to us as nearly-sacred mementos. I can't think of a more wonderful thing to collect! Additionally, their broad range provides opportunities for collectors of all levels, interests, and pocketbooks.
The challenge of finding representative examples became a driving force in the creation of my truly comprehensive collection. To say that it was a passion is an understatement! It became a hobby shared with my husband during our antique journeys around the country, and once the children were grown, a reason for a number of European explorations to auctions and flea markets! Starting with a small display in a wall case at our local elementary school, and an article written about it by a school parent for a shopper newspaper, my interest became further encouraged. I developed programs and displays as the hobby took on a life of its' own! Now, many years later, the numerous magazine articles and major events have enabled me to share the passion with an increasingly fascinated audience. People don't realize that Valentine's Day was such a significant social event, enjoyed by every strata of society, and celebrated extensively. Businesses thrived on it, as they capitalized on the passion of the population by creating a wide array of Valentine articles. Gifts of jewelry, lingerie, perfume, fans, and magnificent Valentines on elegant lace paper - as well as scathing satire on cheap paper for another audience -- were only some of the options. Handmade cut-paper or collages of woven hair and silk ribbons, hand-embellished watch papers to set within the case of a pocket watch, and shell-encrusted fantasies brought by sailors from distant shores - are just a few of the Valentine treasures one can still find.
Famous artists such as Francesco Bartolozzi, George Cruikshank, Walter Crane, Kate Greenaway, Winslow Homer, Grace Drayton, Frances Brundage - and numerous others -- designed wonderful Valentines. Movie themes such as the Disney cartoon characters and the Wizard of Oz are delightful additions to collections and add a unique perspective, while helping to enlarge the scope to include the modern Valentine.
Especially popular now are the die-cut open-out Valentines from the turn of the century, with their honeycomb tissue and delightful chromo-lithographed images of everything from the emerging transportation motif to adorable children and moveable fans! It is a wonderful category, which is a popular collecting destination. I can't think of another subject that provides such a variety of things to find - or which possesses such a long and fascinating history. For me, collecting is a great source of pleasure, with the search, the find, the acquisition, and lastly — the sharing of the treasure, providing the essential encouragement.
2. The Origin of Saint Valentine's Day To do this briefly is a challenge! The early history of St. Valentine's Day has two separate aspects, and there are several versions of the origin of the holiday. The generally accepted story states that during the reign of the Emperor Claudius II, there was a Priest in Rome who befriended young couples, and encouraged them to marry. This infuriated the Emperor, who felt that a married soldier would not give his primary allegiance to him, but to his wife! The Priest, Valentinus, was ordered to cease these actions, but he persisted in ministering to the young lovers, and even attempted to convert the Emperor to Christianity! Angered at this, the Emperor sentenced Valentinus to be beheaded. While awaiting his execution, it is said that he befriended the blind daughter of the jailer, and even restored her sight. It is also written that on the eve of his execution, he wrote a note to this young girl, which he simply signed, "Your Valentine" — and that, in the year 276 AD, is believed to have been the very first Valentine!
In that early era in Rome, there existed many popular Pagan customs, celebrated at festivals such as The Feast of Lupercalia — basically "the rites of spring". During the celebration, "lots" were drawn from an urn on a sacred altar of love, and the selected name would be the lover, or partner for the year. Because there was feasting, dancing and raucous merrymaking, it was an exceptionally popular festival. When the Romans occupied Britain, they carried their Pagan customs with them — including this popular Feast of Lupercalia. As Christianity began to take hold in England, a great effort was made to banish these customs. This festival occurred at the same time of year as the martyrdom of the patron of lovers, Valentinus, and since it would have been very difficult to ban such a popular feast, the name was changed to honor that Saint. Thus, Saint Valentine's Day became the reinvention of this old Pagan holiday!
3. The History and Evolution of the Valentine From the earliest tokens of affection -- perhaps a feather, a flower, or a fern frond -- evolved the cut paper gifts we cherish today. Since the 16th century, religious mementos with the Sacred Heart motif have been tenderly created in convents in France, Germany, and Holland. Given with respect, admiration, friendship, or love, these handmade devotionals are the epitome of the personal love token. Carefully crafted on parchment or vellum, and lovingly given, collectors of antique Valentines seek them as important touchstones — for they reflect the purest concept of the Valentine. The religious devotionals were surely the precursors of the modern Valentine, their designs emulating the hand-tatted lace of the period. The compositions incorporated decorative edges, framed cartouche paintings of saints and sacred hearts, and were often enhanced by swags and flowers, bouquets and hearts — all cut with a knife!
While artists may have crafted some pieces, unskilled, loving hands created most. That tenderness is a part of the personal aspect of collecting such charming, often primitive ephemera — a communication with the past, and an intimacy with the real people who made and received them. In such totally different time periods, in countries far apart, crude paper, rustic equipment, and candlelight, nurtured with love and na´ve artistry, inspired some of our most wonderful treasures! Given with affection, the recipients carefully saved them… pressed within the pages of a book, safely tucked in an album, or framed for all to see. The "romantic" in me believes that each piece in my collection tells a special story — and the reality is that they were all crafted in historic times that were so different from ours, that we must be in awe of their very survival! Protecting them for future generations is the obligation, and often the challenge, for the modern collector.
There really were no "Valentine cards" for centuries. First, the "Valentine" was the chosen person, and actual lotteries existed for many years. We have recordings, in Samuel Pepys' fifteenth century Diary, of expensive items such as jewelry, hosiery, and gloves being given as Valentine gifts, as well as the very first mention of a little Valentine note on blue paper with gilt letters! We have records of some other small love messages having been written, but during the Reformation, an effort was made to encourage people to select a Saint to honor instead of a person, and that is apparently when the devotional pieces began. From the sixteenth century, nuns in convents in France and Germany created tiny cut-work treasures out of parchment or vellum, decorated with images of saints or hearts — or even the endless knot of love — and sold them for the benefit of charity. These were given as gifts to commemorate virtually all celebrations: births, deaths, communion, baptism, marriage, birthdays, and St. Valentine's Day! It is possible to monitor the evolution of Valentine design through these early design elements.
Gradually, as the techniques of making paper advanced, the magnificent cameo-embossed papers appeared. It became designated for elegant love letters and Valentines, and numerous talented English manufacturers provided romantic stationery for their increasing numbers of customers. In Germany and Austria, the elegant cards created to celebrate New Year's and Name Day Festival were crafted of similar materials, and collectors seek them for their rarity and beauty as well. While lace paper appears to have made earlier in the century in Germany and Austria, the English discovery, in 1834, of the technique for producing fantasies in open-work embossed lace paper, created a canvas for creativity and artistry which has not been duplicated.
In America, Valentines were largely handcrafted until that time and the influence of the immigrant German cultures resulted in the wonderful folk-art paper items known as scherenschnitte — paper cutting — and fraktur — paper designs incorporating the German writing and imagery. Paper was scarce and costly, and free time to create special missives was also limited because of the responsibilities of work and school. The handmade love-tokens are, for me, the epitome of the tender art of communication — and the variety — from the most primitive to the most elegant calligraphic penmanship — reflect the beauty and tenderness of the sentiment. These, then, are my favorites because I can "feel" the presence of the person who gave, made, or received them. Their dedication to saving them in albums, pressing them between the pages of a book, or mounting them upon the wall for all to savor, commits me to saving them for posterity.
Several publishers of lithographs and wood engravings were making manufactured Valentines in New York early in the century, and by mid-century, the famous maker, Esther Howland, had set up her business in Worcester, Massachusetts. She established the first all-female assembly line workshop, as well as a "cottage-industry" where ladies would have materials and samples delivered and picked up at their homes, thus mass-producing Valentines in quantity. Her contribution to the popularization of the tradition and the sending of decorative lace Valentines cannot be over-emphasized. The smaller ones generally are marked N.E.V.Co. for her New England Valentine Company, or with a red "H" and a number indicating the price. Large, ornate masterpieces, with multiple layers, and beautiful composition have never been found with signatures, yet have been attributed to her because of their styling and components, and by the magnitude and uniqueness of her New England operation.
As the Industrial Revolution advanced, people had less time to spend at home crafting love missives, and machinery was able to create Valentines which replaced them. Lost was the personal touch, the individuality, and the infinitesimal detail, but people were entering a modern age, and chromolithography made it possible to mass-produce by machine. We see the demise of the old styles in Valentines, but a later "Victorian" appeal which we can identify by the heavy layers and applied scraps (die-cuts). These replace the delicate hand-made confections which preceded them, but they were truly lovely in their own way. Today, we can display these in shadow boxes, with the layers separated in a three-dimensional manner.
A crude and rude type known as the penny-dreadful, or vinegar valentine, was popular among a class of people far different from those sending lacy and romantic tokens. These were made on a cheap pulp paper and were frequently vulgar — and often destroyed. They are a fascinating aspect to the collection, I believe, and contribute further insight into the personalities and lifestyles of the people. Aimed at occupations, appearance, or habits, nothing was sacred.
Post-card Valentines and die-cut open-out styles became very popular towards the end of the nineteenth century, and are an available "paradise" for today's collector. Every theme has been included, and one could make a collection, for example, of items with a transportation motif -- automobiles, ships, trains, carriages, planes, dirigibles — or only of adorably charming children painted by leading artists of the period These open-outs were decorated frequently with honeycomb tissue paper or scraps which made them unique. Made of a thick cardboard which can become very brittle, pristine examples are very desirable and would be the basis of a collection of increasing value. They were largely manufactured in Germany and Britain, many by famous factories.
By World War I the production of Valentines largely ceased because of the demands of the war, and little is seen until the 1930's. The colorful Walt Disney creations are the highlight of this period, and extremely collectible, as one tries to acquire an example of EACH one! Designed with the characters from their famous movies, they now appeal to all ages — and especially to those adults who remember them as children! American companies such as Norcross and Hall Brothers produced a vast number of cards. During World War II the styles were very simple, and dominated by themes such as "For My Sweetheart in the Army". Simplicity was still the theme for years, and by the 1970s, I believe, we see the beginnings of a renaissance, as old-fashioned designs — even open-outs -- appear again. Today, it is possible to find an occasional greeting card with a treasured and timeless message, but they are mostly "contemporary" — with little relationship to the delicate and marvelous treasures which would have been cherished and saved "forever". One can find every cartoon theme, as well as those with musical chips inserted! Cards are available in virtually every language, and earmarked for ethnic segments of the population. For me — as the "passionate collector" I want them all — and frankly, if I want to have a comprehensive collection, showing the real evolution of the Valentine, I need to have them — it's just that some will be more special than others.
4. Varieties of Valentines I have already mentioned several types — but basically there are the machine-made and the handmade. In the machine made category I would include the engravings, the lithographs, and the wood-block designs, the aquatints, the embossed lace, the openwork lace, the Victorian die-cut layered ones, the postcards, the fans, the mechanicals, and the German die-cuts of the turn of the century.
In the handmade category we can include the folded and cutout designs, called scherenschnitte, fraktur, cut-paper designs such as the heart and hand motif, the devotionals — also often called knipsel or canivets, pin-pricks, stencil (poonah or theorem) designs, labyrinths or mazes, acrostics, puzzle-purses, cobwebs, rebuses, watchpapers, hair-decorated, handwritten, embroidered, watercolored, and probably others I cannot think of at the moment!
Three-dimensional items include elaborate Sailor's Valentines made of shells, glass rolling pins, corset stays--called "busks"-- made of wood or whalebone, Welsh love spoons, knitting sheaths, and bobbins. Magnificent fans, impressive jewelry, fine gloves, and a wide variety of utilitarian and decorative boxes and items made from wood, silver, brass, enamel, or ivory… all might be decorated with motifs signifying love, courtship, betrothal, and marriage. Love-letter seals and "love token" coins are distant cousins, but stretch the concept of the Valentine as a token of love which might be given any day of the year. The list is endless, and each area is worthy of a collection by itself.
5. The Creation of a Collection First, one has to be intrigued and fascinated by the concepts I have outlined already. Even if one has no idea of the majesty of the things I described, if you are open to learning, and like the intrinsic theme, I think you're set for some fun. There are a great many areas for collecting valentines — from a few dollars to a huge amount for very serious pieces which may be coveted by long-established collectors. Some people focus on one period or style — I know someone with a vast and fabulous collection of Valentines with the theme of golf — others select colorful children, open-out fans, postcards, or the works of specific artists, like Clapsaddle, Brundage, or Greenaway, for example. Sometimes it's good to get a little "price guide" which you can use as a form of checklist — realizing, of course, that price lists have very little merit, for the prices change rapidly, and vary according to location and demand. Once you start, it's good to go to antique fairs, auctions, paper shows (the term is officially "ephemera") and museums. Seeing the actual pieces is the very best way to acquire knowledge. The books on the subject are out of print, but most good libraries have them, and they should be sought with determination. Knowledge is essential before you make any significant financial commitment. The National Valentine Collector's Association provides a quarterly newsletter, with lots of information, a mail-bid auction, annual meetings in various locations around the country, and the opportunity to meet other people who share the same interest. This is definitely a subject area which enraptures — and delivers its rewards in so many ways. The artistry and elegance, the craftsmanship of hand- or machine-made varieties, and the accompanying history make this a collectors' paradise!
The Enduring Love of a Collector by Nancy Rosin
Reprinted from: The Ephemera Journal, A Valentine Source-Book, The Ephemera Society of America, Volume 3, 1990.
Collecting Valentines is, to me, far different from collecting any other item. Valentines and their related love ephemera touch the most basic emotional aspects of the relationships among people: they reveal qualities about the object, the sender, and the recipient, to which we can all relate. In my own collection, I never feel that I am amassing or compiling documents. But rather am creating a chronicle of actual people. These former owners acquire personalities I can envision; their artistic endeavors are both appreciated and savored.
A list of facts can only provide the most elemental aspects of a collection. The challenge, the search, and the acquisition are common to every collector; a deeper bond is an understanding of and a respect for the entire process. These are no mere "accumulations", but scholarly, perhaps even anthropological or sociological, studies of people's lives lived within a particular historical framework.
In my personal study, the manufacture of paper, and the development of the postal delivery systems, played key roles in my appreciation for the valentine missive. In my desire to form a comprehensive collection, I needed to become familiar with events in history: to link valentines to the Gold Rush, the Civil War, women's suffrage, the building of the transcontinental railroad, etc. It also intrigued me to become more familiar with artists — to be able to spot the work of Kate Greenaway, Walter Crane, Norman Rockwell, or illustrators.
As with the collection of other historical documents, acquiring Valentines involves a moral obligation: the responsibility to safeguard and preserve them for posterity. If we can, we stop the process of deterioration of paper treasures. And we have the responsibility to keep these fragile relics of the past, and of past loves, in archival conditions. Although the very definition of ephemera refers to the transitory nature of objects that were not intended for permanence, it is incumbent upon us to now become custodians of these mementos.
For me, each Valentine possesses special qualities which make it "collectible". The primitive, the humorous, or the elegant — each has a special charm. They were saved as souvenirs, passed down as heirlooms, and now are valued for their aesthetic and historic qualities. When I hold one in my hand, I can feel transported to another era — and can imagine a perpetual Valentine's Day of love and regard.