Valentines - The Language of Love

New Catalog Available!

Keepsake Cards and Open-Outs

Valentines is pleased to present this new catalog of keepsake cards for your loved ones! Beautiful designs from the past have been reproduced and made into collage versions of the original; they are modern in format, while preserving the tender concept of giving something lovingly made by hand.

Careful reproductions are applied to fine quality 5x8 card stock, embellished with imported metallic borders and trims, and transformed into special love tokens. Since the original missives were sent as messages of love, for any time of the year, they are often quite appropriate for any occasion, and are treasured mementoes for birthdays, anniversaries, weddings, confirmations - and any moment enhanced by a special token of affection.

The interior of the cards are blank, enabling you to write your own message. When the antique originals were given, poetry or messages of love were carefully penned within to express the personal sentiment of the giver, thereby making the message more personal and cherished. Today, we think that the unique, handwritten thoughts of the sender are still preferred to any printed message!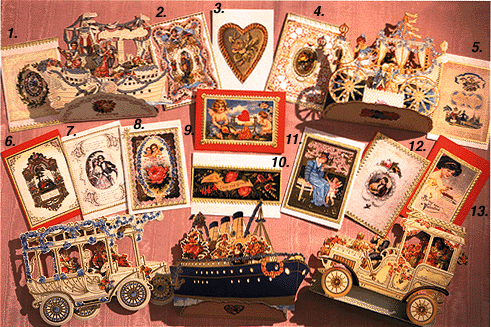 A Celebration of Love!

In earlier days, these cards would be given as "tokens of love" any day of the year. The best result of the current interest would be if we could return of that trend, and express our affection everyday.

Among the most exciting of the antique Victorian Valentines are the marvelous open-outs popular at the turn-of-the-century. These three-dimensional reproductions look like the antique originals which were given as gifts one hundred years ago! I have selected ships, automobiles, and the golden fan shown in the "Love the Giver" poster. These are definitely destined to be the cherished antiques of the future!


Order Form

All cards and open-outs include envelopes. Please list quantity desired.

Posters ...........U.S.$20. each


| | | | |
| --- | --- | --- | --- |
| | P1 | "The Valentine - A Tribute to Love" | ....... |
| | P2 | "Love the Giver" | ....... |




| | |
| --- | --- |
| Valentine Kit.........$20. | ....... |




A wonderful assortment of new and old items - scraps, card stock, pictures to use in collage, and other inspiring materials - to create a variety of "old fashioned" keepsake treasures for your friends and family.

Each kit is different, and everything is included except scissors, glue - and imagination! Add your own mementoes if you want - and create a personalized Valentine fantasy!

Collage Cards........$ 6.


| | | | |
| --- | --- | --- | --- |
| | 1. | Lily of the Valley Wreath | ....... |
| | 2. | Victorian Collage | ....... |
| | 3. | Embossed Heart | ....... |
| | 4. | Elegant Lace | ....... |
| | 5. | Endless Knot of Love | ....... |
| | 6. | Victorian Couple | ....... |
| | 7. | Romantic Couple | ....... |
| | 8. | Cornucopia of Love | ....... |
| | 9. | Cherubs | ....... |
| | 10. | Love the Giver | ....... |
| | 11. | Walter Crane Valentine | ....... |
| | 12. | Embracing Couple | ....... |
| | 13. | Offering of Love | ....... |
| | 14. | Nancy's Choice | ....... |

Available as printed cards, No. 2 and No. 4.......$ 4.

| | | | |
| --- | --- | --- | --- |
| | 2. | Victorian Collage | ....... |
| | 4. | Elegant Lace | ....... |


Open-Outs..........................................................$10. each


| | | | |
| --- | --- | --- | --- |
| | | Fan - "A Loving Thought" | ....... |
| | | Automobile (green) | ....... |
| | | Automobile (blue) | ....... |
| | | Love's Carriage | ....... |
| | | Deluxe Loveboat | ....... |
| | | Jumbo Ship. | ....... |



Postage and handling charges: $....................

Posters............$2.50 (maximum two per mailing tube)
Other items ....$3.50 per order

N.J. residents, please add 6% sales tax. Check or money order only.



Total amount enclosed: U.S.$ .......................


Name

................................................................................................
................................................................................................

................................................................................................

Phone

..........................................

Please print out this page and mail to the address below.


Since our collage cards are not machine-made, there may be slight irregularities. We sincerely strive for perfection, and offer complete satisfaction in our products.

Valentines
Box 647
Franklin Lakes, NJ 07417 USA
---
All content on this site is Copyright (c) 1997-2001 by Nancy Rosin
(please click the back-arrow button above to return)